A page of bookmarks to record Genealogy, Maps and Hartlepool websites I've used in my Watson-Loughborough-Mowbray-Bulmer research. Do contact me if any of these names below mean anything to you.
FreeBMD - Start here.
My Family Tree from Chronoplex - My Family Tree is a free genealogy application for Windows®. It has been carefully designed to help you quickly create your family tree using a simple and intuitive interface.
Mark Twain said something like "When I was a boy of 14, my father was so ignorant I could hardly stand to have the old man around. But when I got to be 21, I was astonished at how much the old man had learned in seven years."
6 months ago, as a total novice genealogist but with a lifetime in IT tech support behind me, I looked at GRAMPS and thought it looked slick but bewildering. I put it to one side and started using 'My Family Tree' by Chronoplex, which was simple, and easy for me to input my limited data, 90+ records. 6 months later I was finding it a bit limited, and wanted greater customisation, and web publishing options. I imported my GEDCOM data into GRAMPS and after just an hour, experimenting with it, and generating reports and HTML pages, populated with my own real data, I am stunned. It will take a long time for me to fully understand and exploit all the functionality, but I am totally converted to GRAMPS. Remember to keep a initial GEDCOM file, so that when you are fully familiar with it, you can start again from the GEDCOM file, after trying lot of experiments. If you've tried it before and not liked it, try it with your current GEDCOM data file. I never give 5 stars to any review unless it comes with free beer. 4/5 is as good as I ever give.
Biggest Pro: Free and sophisticated, and well worth persevering with.
Biggest Con: Hard on beginner genealogists and/or those with limited IT knowledge, but one day, you see the light. Wow!
Ancestry -
FreeReg - Search Parish Registers
Hartlepool History Then & Now - They are building an amazing archive of everyday life in Hartlepool through the photographs and memories of local people. In addition to these very personal photographs, there is also a wide range of images and documents from Hartlepool's Library and Museum Services' collections, creating a valuable social and maritime history resource/archive.
This is Hartlepool - This is Hartlepool! The unique attractions of the stunning multi-million pound Hartlepool Marina complex, an old town steeped in 1,000 years of history and mile after mile of golden sands at Seaton Carew. There's much more to discover and enjoy in Hartlepool. Welcome to the unofficial guide!...
Hartlepool History - STAN LAUNDON - This website contains a personal collection of photographs, and memorabilia, from a local country music radio presenter. Included on the site there's a healthy selection of photographs, and the history of the town, There is also a section dedicated to the bands of Hartlepool and Teesside from the 1960's.
Museum of Hartlepool - A truly amazing photograph collection on Flickr.
Maps:
Vision of Britain - Topographical, land use and administration maps from the 19th and 20th Centuries.
Old Maps Online - I can't believe that this is free.
Alan Godfrey Old Ordnance Survey Maps of Hartlepool - Great value reproductions.
Kiss me Kate Loughborough - Unhelpful link. This won't help at all... It makes me smile.
Censuses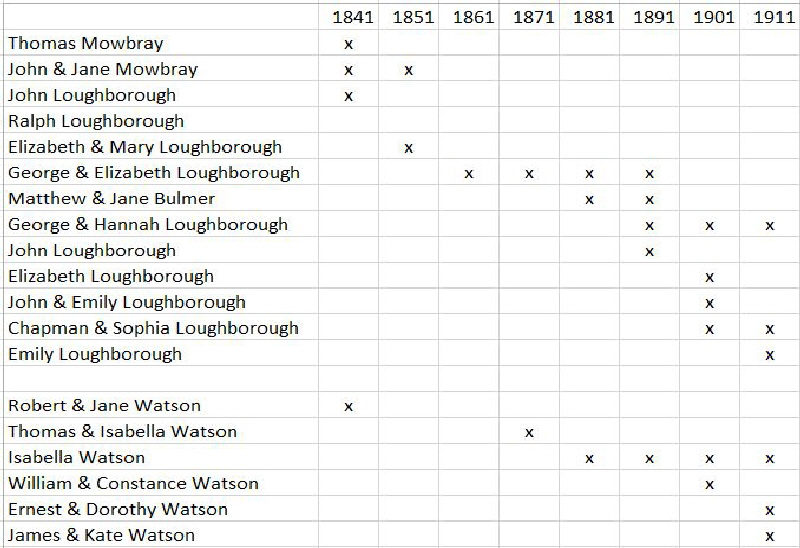 | | | | | | | |
| --- | --- | --- | --- | --- | --- | --- |
| Name | Birth date | Birth place | Death date | Death place | First marriage date | First marriage place |
| Jane CHAPMAN | 1782 | Greatham Durham | 25/02/1862 | Bedford Street | | |
| John Sr MOWBRAY | 1786 | Wolverston Durham | 22/01/1863 | Bedford Street | | |
| William Wilkinson LOUGHBOROUGH | 09/05/1792 | Durham | 27/07/1851 | 26 Walmer Street Marylebone | 1820 | |
| Louisa HUMPHRIES | 11/01/1798 | London | 1858 | | 1820 | |
| Charles GLASSOP | 29/06/1802 | Shoreditch | | | | |
| Catherine SULLIVAN | 1803 | Mile End | | | | |
| Jane GRAY | 1815 | | | | 01/01/1844 | |
| Mary MOWBRAY | 1815 | Hartlepool | 1887 | Hartlepool | 13/06/1835 | Hartlepool |
| Robert Smith WATSON | 1816 | | 02/11/1871 | | 01/01/1844 | |
| John MOWBRAY | 1816 | | 05/04/1891 | | | |
| Margaret MOWBRAY | 1818 | Hartlepool | 1881 | | Mar 1839 | Stockton Durham |
| Samuel Gilmore FRASER | 1820 | | | | | |
| Isabella FRAZER | 1820 | | | | | |
| Jane Louisa LOUGHBOROUGH | 21/09/1821 | | | | 13/03/1842 | Paddington |
| James MOWBRAY | 1822 | | 27/12/1882 | Hartlepool | 1845 | |
| Dorothy HETHERINGTON | 1823 | | 1884 | | 07/06/1846 | |
| Matthew Thomas LOUGHBOROUGH | 17/08/1823 | | 06/05/1866 | Kensington | | |
| Jane MOWBRAY | 1824 | Hartlepool | 24/07/1909 | | | |
| John Ditchburn FRAZER | 01/06/1825 | | 1859 | | 07/06/1846 | |
| Elizabeth Augusta LOUGHBOROUGH | 13/06/1825 | | | | 02/08/1851 | |
| Sarah MOWBRAY | 1826 | | 21/12/1895 | | | |
| William LOUGHBOROUGH | 1828 | | Dec-14 | Kensington | Dec 1863 | |
| Ann MOWBRAY | 1828 | | | | 1848 | |
| Ellen LOUGHBOROUGH | Jan 1830 | | | | 02/07/1859 | Scots Church Sydney |
| George Sr LOUGHBOROUGH | 10/06/1832 | Little Barlow Street | 01/05/1900 | 11 Croft Terrace Hartlepool | 08/07/1855 | Parish Church Hartlepool |
| Sarah MACKENZIE | 1834 | | | | | |
| William Henry Jr BALLARD | 1835 | Shoreditch | 1908 | Edmonton | 20/11/1860 | Spitalfields Christchurch Stepney. |
| Ann LOUGHBOROUGH | Apr 1835 | | 27/03/1836 | Kelso Place | | |
| Elizabeth MOWBRAY | 1836 | | 16/04/1902 | 11 Croft Terrace Hartlepool DURHAM | 08/07/1855 | Parish Church Hartlepool |
| John LOUGHBOROUGH | 12/02/1837 | | 1841 | | | |
| Richard LOUGHBOROUGH | 11/11/1838 | | Mar 1893 | London | | |
| Louisa BALLARD | Dec 1838 | Chelsea | | | | |
| John Colin LOUGHBOROUGH | 1841 | | May 1849 | Walmer Place Marylebone | | |
| Catharine GLASSOP | 16/03/1842 | 51 Nelson Street Bethnal Green | 25/12/1877 | 2 Tremlow Terrace Hackney | 20/11/1860 | Spitalfields Christchurch Stepney. |
| Thomas Christopher WATSON | 18/02/1845 | | Abt. 14/10/1889 | | 21/01/1866 | |
| Joseph Henry WATSON | 1847 | | 1909 | | | |
| Isabella FRAZER | 19/05/1847 | | 1918 | | 21/01/1866 | |
| Robert S WATSON | 1850 | | | | | |
| Maria Ditchburn FRAZER | 1851 | | 1895 | | 1876 | |
| Jane LOUGHBOROUGH | 1856 | | | | 1879 | |
| John William LOUGHBOROUGH | 31/08/1858 | Bedford Street Hartlepool | 18/03/1911 | 8 Sandringham Road Hartlepoo | 29/01/1882 | South Hackney |
| Louisa LOUGHBOROUGH | Apr 1860 | | | | | |
| Annie Maria BALLARD | 10/01/1861 | 8 Goldsmiths Terrace Haggerstone MIDDLESEX | 06/12/1883 | 29 Eden Street Hartlepool | 29/01/1882 | South Hackney |
| Elizabeth BBB LOUGHBOROUGH | 1862 | | | | 1897 | |
| Charles A BALLARD | 1863 | Shoreditch | | | | |
| George Jr LOUGHBOROUGH | 1865 | | | | | |
| Agnes A BALLARD | 1865 | Shoreditch | | | | |
| William Holmes WATSON | 1867 | Jarrow | | | | |
| Thomas Robinson LOUGHBOROUGH | 1868 | | | | | |
| Kate E BALLARD | 1868 | Shoreditch | | | | |
| Emily Walker HENDERSON | 1869 | | 1952 | | 11/02/1897 | Methodist Chapel Hartlepool |
| Chapman LOUGHBOROUGH | 1869 | | | | | |
| Robert H WATSON | 1870 | Jarrow | | | | |
| Mathilda BALLARD | 1870 | Shoreditch | | | | |
| William Henry BALLARD | 1871 | | | | | |
| Thomas C WATSON | 1872 | Jarrow | | | | |
| Frederick Herbert BALLARD | 06/04/1872 | | | | | |
| Constance Jane G MACKENZIE | 1873 | | | | | |
| Margaret LOUGHBOROUGH | 1873 | | | | | |
| Arthur Douglas BALLARD | 07/06/1873 | | | | | |
| John F WATSON | 1874 | Jarrow | | | | |
| Walter BALLARD | 1875 | | | | | |
| Horace Alfred BALLARD | 1876 | | | | | |
| James Sedcole WATSON | 31/10/1876 | Jarrow | 04/10/1942 | West Hartlepool | 14/02/1905 | Primative Methodist Hartlepool |
| Ernest P WATSON | 1880 | Jarrow | | | | |
| Kate LOUGHBOROUGH | 06/11/1882 | Hartlepool | 06/01/1967 | Hatch End Harrow | 14/02/1905 | Primative Methodist Hartlepool |
| John Mowbray LOUGHBOROUGH | 06/11/1882 | 9 Eden Street West Hartlepool | 17/12/1882 | 9 Eden Street West Hartlepool | | |
| George Loughborough BULMER | 1883 | | | | | |
| Elizabeth Mowbray BULMER | 1885 | | | | | |
| Hannah Mary WOOD | 1886 | | | | | |
| Ernest LOUGHBOROUGH | 1888 | | | | | |
| Ann BULMER | 1888 | | | | | |
| Elizabeth Jane LOUGHBOROUGH | 1889 | | | | | |
| Mary Ellen LOUGHBOROUGH | 1892 | | | | | |
| Chapman Henry Jr LOUGHBOROUGH | 1894 | | | | | |
| Margaret Mowbray LOUGHBOROUGH | 1895 | | | | | |
| Louisa LOUGHBOROUGH | 1897 | | | | | |
| Margaret Louisa LOUGHBOROUGH | 1898 | West Hartlepool | 2003 | | | |
| Edward LOUGHBOROUGH | 1898 | | | | | |
| Sophia LOUGHBOROUGH | 1900 | | | | | |
| Alan H WATSON | 1901 | | | | | |
| Laura LOUGHBOROUGH | 1902 | | | | | |
| Elizabeth LOUGHBOROUGH | 1904 | | | | | |
| Norah LOUGHBOROUGH | 1906 | | | | | |
| Wilfred Peter LAMPARD | 01/07/1906 | | Sep-77 | Guildford? | | |
| Edmund LOUGHBOROUGH | 1907 | | | | | |
| May Fraser WATSON | 08/04/1907 | Hartlepool | 13/02/1973 | Guildford | 13/09/1927 | |
| Hilda LOUGHBOROUGH | 1909 | | | | | |
| Constance Anne WATSON | 1910 | | | | 1936 | |
| George IV LOUGHBOROUGH | 1910 | | | | | |
| William Robert WATSON | 1916 | | 13/11/1943 | | | |
| Cecil Milton RHODES | 1917 | | | | 18/04/1940 | Lambeth |
| Harry LEGGETT | 23/04/1928 | | | | | |
| Jack LOVEKIN | 1931 | Edmonton | 2011 | | | |
| Martin Harry WATSON | 26/07/1957 | | | | | |
| Victor PALMER | | | | | 1936 | |
| Derek PALMER | | | | | | |
| Frank PALMER | | | | | | |
| Keith PALMER | | | | | | |
| Patricia GREEN | | | | | | |
| Ann GREEN | | | | | | |
| Thomas William LEGGETT | | | | | 13/09/1927 | |
| Eric LOVEKIN | | | 1968 | | | |
| Marjory | | | | | | |
| Matthew BULMER | | | | | 1879 | |
| James LOUGHBOROUGH | | | | | | |
| Agnes BURNETT | | | | | | |
| Sophia Ellen SMITH | | | | | | |
| Ernest PRENTICE | | | | | | |
| Sarah Jane LOUGHBOROUGH | | | | | | |
| William George BEE | | | | | | |
| John Jr LOUGHBOROUGH | | | | | | |
| George III LOUGHBOROUGH | | | | | | |
| Rose Easton BRISCOE | | | | | | |
| Herbert LOUGHBOROUGH | | | | | | |
| Jane LOUGHBOROUGH | | | | | | |
| Thomas LOUGHBOROUGH | | | | | | |
| David W LOUGHBOROUGH | | | | | | |
| Robert Burnett LOUGHBOROUGH | | | | | | |
| Edmund George PRENTICE | | | | | | |
| Henry LOUGHBOROUGH | | | | | | |
| Thomas William BARNETT | | | | | | |
| Daughter LOVEKIN | | | | | | |
| William Henry Sr BALLARD | | | | | | |
| Ann | | | 1852 | | | |
| Matthew LOUFBOROUGH | | | | | | |
| Elizabeth BYERLEY | | | | | | |
| John HUMPHRIES | | | | | | |
| Catherine | | | | | | |
| Charles BURNE | | | | | 13/03/1842 | Paddington |
| Ada THOMPSON | | | | | | |
| Thomas DORRELL | | | | | 02/08/1851 | |
| Anne Stedman | | | | | Dec 1863 | |
| Thomas KEEN | | | | | 02/07/1859 | Scots Church Sydney |
| William PERRY | | | | | 13/06/1835 | Hartlepool |
| Thomas ROBINSON | | | | | Mar 1839 | Stockton Durham |
| Mary BUTCHER | | | | | 1845 | |
| Thomas Wilson POUNDER | | | | | 1848 | |
| Isaac FRAZER | | | | | 1816 | |
| Maria DITCHBURN | | | | | 1816 | |
| James Sr SEDCOLE | | | | | 1876 | |
| James Jr SEDCOLE | | | | | | |