20th September 2012 - ā€˜Someone to Watch Over Meā€™ at Hampton Hill Theatre, a poignant melodrama set in a cell in Beruit. Itā€™s based on the story of John McCarthy and Brian Keenan, who were held hostage together.
15th September 2012 - It was the day of the annual Great River Race, so we walked the Thames Path (left, below) from Putney to Hammersmith, watching the rowers heading upstream, before visiting our old favourite, right, Barnes Wetlands.
13th September 2012 - I take most of the pictures, so Iā€™m rarely in them. Hereā€™s a self-indulgent minute of me in front of the camera. Go on, you know you want to, click the white triangle.
9th September 2012 - We saw a little egret at Kempton Nature Reserve.
8th September 2012 - A walk to Home Park, trying to find the parts we visit least often. we particularly liked the area around Oak Pond. The wet summer seems to have resulted in more dragon flies this year. Iā€™ve even seen on in our garden on a couple of occasions. Also weā€™d often wondered what sort of fish there are in Long Water. Is this (or was it) a carp?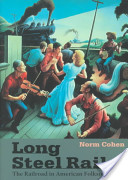 4th September 2012 - Alice bought me ā€˜Long Steel Railā€™ The Railroad in American Folksong by Norm Cohen. Itā€™s a fascinatingly detailed labour of love, telling the tales of legends of the American railroad and the songs they inspired, mostly from 1860-1900. I was shocked to read that train crash re-enactments were a regular feature of state fairs.
1st September 2012 - We had a meandering walk around the City of London, exploring all the hidden alleys. We saw many interesting sights, old church yards, quaint pubs and small gardens. We based our travels on this site listing the Top 10 Square Mile Alleyways which gave us our first few but we got a bit carried away and kept deviating up other back passages. We walked from Bank station, all around the City, and back to Waterloo via St Paulā€™s, Temple and Fleet street. We found some very interesting mathematical tilings by Rupert Spira, just east of the end of Fleet Street.
One alley, Wine Office Court lead past the Cheshire Cheese pub, towards Dr. Johnson's house, and we saw his view on alleys of London. "Sir, If you wish to have a just notion of the magnitude of this great city you must not be satisfied with seeing its great streets and squares but must survey the innumerable little lanes and courts.ā€
18th August 2012 - Weā€™re just back from a wonderful holiday in Washington, DC.
29th July 2012 - I have added a picture of the Olympic cycling in Teddington on the Teddington Diary page.
26th July 2012 - My 55th birthday! We went to Kew Gardens, it was wonderful, such a hot sunny day, the third one in a row, although it is back to rain today. Weā€™ve joined as members as we have decided to go much more often. This isnā€™t an advert, but it was £55 for me to be a member, including £10 off for paying by direct debit. Alice can come as my guest! Considering it is about £15 a time each, thatā€™s quite a deal.
21st July 2012 - ā€˜July 4thā€™ picnic at Aliceā€™s parentsā€™ house.
14th July 2012 - 40th birthday of our friend Simon Williams.
11th July 2012 - I have just bought a breadmaker and it arrived on Monday. Yesterday I made my first loaf. I had done a lot of research before choosing a particular model. I also did a lot of background reading, which has all paid off. Today my second attempt was equally pleasing. Tomorrow I plan to try my own pizza base.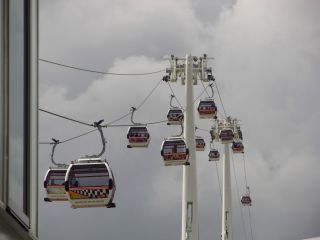 7th July 2012 - We visited East London to try the new cable car across the Thames from the Dome to Royal Surrey Docks. For £3.20 each way it was a wonderful day. If you have an Oyster card then you can bypass the entire queue. the cars looked immaculate and even smelled brand new. The day was cloudy but very clear and the views over Docklands, The City, Greenwich and downstream beyond the Thames Barrier were sensational. We travelled across and back and then walked west along the Thames Path to just upstream from Greenwich. We looped anticlockwise around the Dome, looking up at a few intrepid folk doing the new walk across the roof. We had to move inland for a while due to building work, before rejoining the path in time to see the newly restored Cutty Sark..
6th July 2012 - Today I left BTP, my employer for the last three years. I will shortly be an unemployment statistic. I will have more time for documenting our adventures here.
29th June 2012 - Itā€™s been a while since I added here. Iā€™ve had a lot on my mind. Today I invented the phrase "elasticated badinage", while removing a stretchy knee-support. It describes the free-flowing, pun-ridden, beer-assisted witty banter between some friends on a Friday night. Iā€™ve added an elasticated badinage page which I will use to record some outrageous off-the-cuff puns. I searched on Google for the phrase, and it said ā€œNo results found for "elasticated badinage".ā€ I therefore claim the expression as truly my own.
10th June 2012 - A walk on Ham Lands, after visiting Ham Convent for the open day.
4th June 2012 - We did this self-guided tour of Fulham, SW London, passing through Chelsea Harbour just where the Royal barge had been the previous day. I also wanted to visit part of Fulham as I recently discovered that our house was built by a man who had premises in Fulham early last century. the walk ended in Bishopā€™s Park, across the Thames from Putney.
3rd June 2012 - A very wet Golden Jubilee, which we celebrated by getting the train to Wimbledon, and walking all the way home across the Common and Richmond Park.
27th May 2012 - Something a bit unusual. A the garden of a house in Hampton Hill was open to the public to raise money for charity. It isnā€™t a very large garden, but it was ā€˜decoratedā€™ in rather an unusual style.
On our way home we visited the cemetery of St Jamesā€™s church, where we found the 1883 grave of George Barrett Wright, the one-time station-master of Fulwell station.